Inspire and Ignite Change with these Employee Engagement Activities to Celebrate International Women's Day 2023
International Women's Day (IWD) 2023 is about creating opportunities for individuals and organizations to actively participate in the celebration of women's achievements and contributions. Your IWD celebrations can include events, activities, campaigns, and social media initiatives. The goal of engagement on IWD 2023 is to raise awareness and generate momentum for ongoing efforts to promote gender equality and women's empowerment. Here's a list of top 10 experiences which would let you cascade the spirit of IWD 2023 among your employees.

Add wings to the creativity of your female employees through this exciting engagement activity. Book this activity on International Women's Day and make them feel extra special. This innovative team based activity lets them explore the creativity within every participant and encourages them to voice opinions, explore strategies and discover inner strengths.

Book this immersive experience of live-action puzzles that challenge participants to solve a series of clues and riddles to escape a themed room within a set time limit. Our Escape room have a theme related to super iconic Women in the world which resonates with your IWD celebrations. The game is designed to provide an immersive experience, with realistic looking visuals, storyline, and clues that help to bring the story and challenge to life.Book this activity and celebrate the iconic power of your female employees on International Women's Day 2023.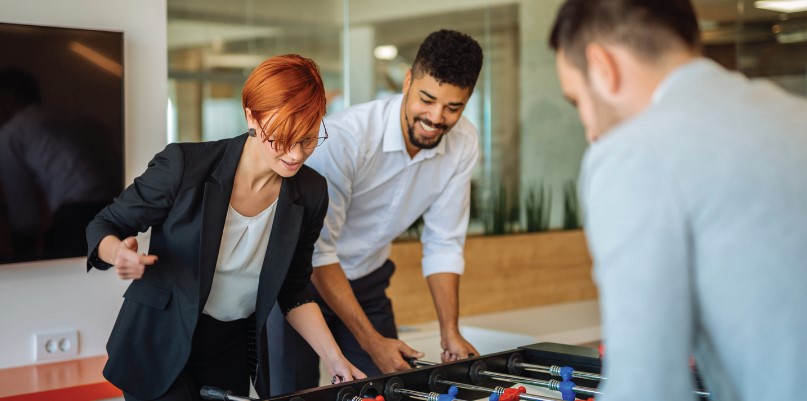 Awesome games, exciting challenges, fun banter, experienced all in this interactive & engaging activity. International Women's Day 2023 must be celebrated with a lot of fun & excitement. Book this power packed virtual or physical activity module on fun games. Conducted by an experienced emcee, employees play time based challenges, funny tasks, trivias, tongue twisters, fun banter and interactive activities. Book this engaging activity now and make IWD 2023 special for your female employees.

Elevate the celebrations of IWD 2023 with this high energy musical activity for your female employees. Book Drum Jam as it is supremely versatile activity creating group harmony and synergy for team building. This activity aims to share rhythm and get in tune with each other and themselves. One of the most iconic activity with drums, apart from Team building, it also proves to be a great group stress buster

Emphasizing on 360 degree wellness initiatives for your female employees on this IWD 2023. Book experiential sessions on different aspects of wellness be it physical, mental, spiritual, social, financial or cyber wellness relevant for your female employees. Right from helping them to manage stress at the workplace or at home, to physical wellness, right diet plan, building spiritual strength, healthy social quotient or securing their financial planning, this activity can be customized as per your requirements by our expert trainers.

Book/hire top female artists to perform for your female employees on International Women's Day 2023. Select from our list of super talented female performers from various fields like singers, band, ventriloquist, magician for a special act on the occasion of IWD. Live entertainment on Women's Day would make your female employees inspired and empowered about their own talent. It will also creates a festive atmosphere and brings people together to acknowledge the importance of gender equality.

Play this lighthearted virtual or physical employee engagement activity. Book Inside Out- a holistic engagement activity to rejuvenate and balance Body, Mind & Soul of your female employees. This activity customized for Women's Day optimizes the IWD Celebrations through team participation and ensures every team member stays involved throughout the activity. Book this employee engagement activity to let your female employees create awesome memories through pictures and videos on IWD 2023

Book specially curated mash up of fun games, live artists, quiz, photo op & appreciation awards to build a festive atmosphere at workplace for IWD 2023. The games, food, music and activities can highlight & celebrate women empowerment & gender equality as per the theme of IWD 2023. The scale of engagement can be customized as per your budget and needs. Book In-Office Fiesta now to celebrate the festival of IWD 2023 at your workplace.

Align your employees towards the spirit of embracing equality on IWD 2023 through this painting activity driven by a culture of teamwork & collaboration. One Vision activity creates a super fun, immersive experience that can cascade your organization's vision for Gender equality across a wide spread employee base in one go in a very cost effective way. The activity has a physical version for in-premise activity and also a tech enabled gamified system if you want to engage remotely working employees on International Women's Day.

Make memories which would stay forever with reels through 360 degree video booth or photo croma set up. Celebrate the achievements and contributions of female employees through customized backdrops / digital frames as per theme of IWD 2023. These reels or pictures can then be shared on social media or as keepsakes, providing a lasting memory of the celebration. This could be your show stopper for Women's Day celebrations as a fun and creative way to engage people and spread awareness about the importance of gender equality.

These are some of the trending experiences which are popular for IWD 2023. You can access through wider range of ideas both virtual or physical on www.engage4more.com to plan your IWD celebrations. You can also reach out to our experts to plan it for you !!