A list of the biggest comic geniuses from South India going global
India is known for its diversity and the comedy industry is no stranger to that. We have comedians killing the stage from almost every state of the country. People have a plethora of options to choose as to what and who they want to watch, some people like us even have difficulty in deciding because the options are so good. The stand-up comedy scene has taken a drastic growth over the last decade and with more opportunities and because of the country's love for comedy, comedians are going out of their ways to entertain people and we can't get enough. When we talk about the South Indian entertainment industry, we're not only talking of the great cinema that has managed to create havoc in the world of entertainment with its increasingly engaging and delightful content. The South Indian comedy scene and the comedians take a big proportion of this industry and our hearts and there's nothing much to say other than the fact that we are only rooting for these icons.
We at Engage4more have curated a list of all the fabulous South Indian stand-up comedians who when it comes to comedy, bring us a feast of entertainment and some of these stars are-
1. Aravind SA (Chennai)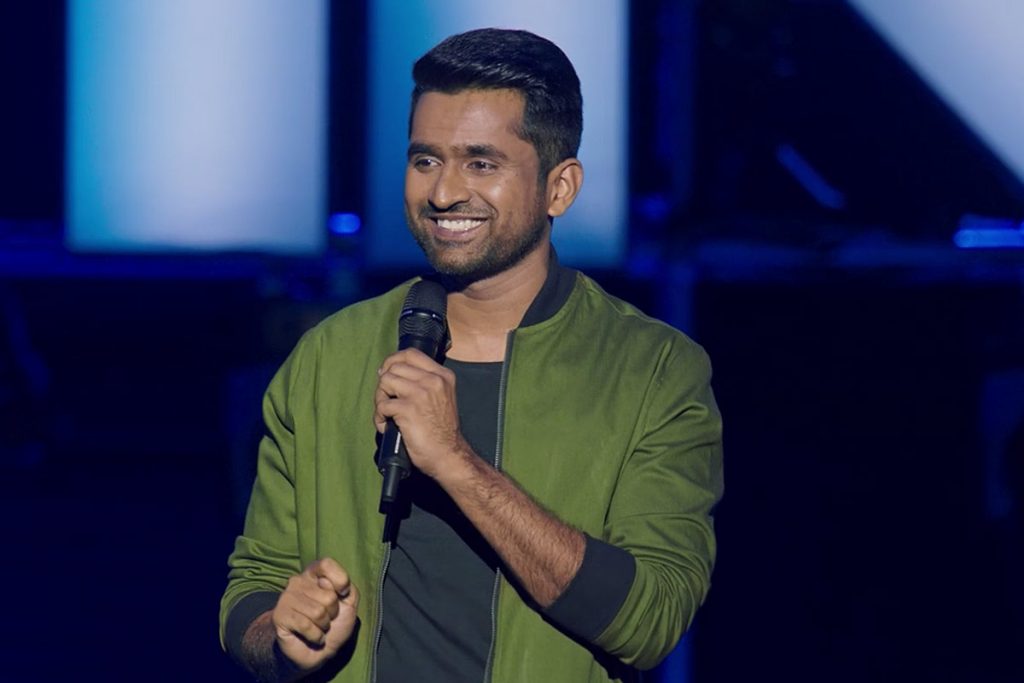 Leave it on Aravind SA to entertain you to the brim. He has been in the comedy sphere for a decade and was also voted one of the most desirable men in Chennai by the Times of India in 2018. He has two comedy specials on Amazon Prime Video and regularly tours around the world. He has a massive following on his social media accounts and is also a YouTube sensation. A familiar name in the South Indian comedy scene whose effortless body language and striking tone and accent make him a treat to watch.

2. Shraddha Jain (Bangalore)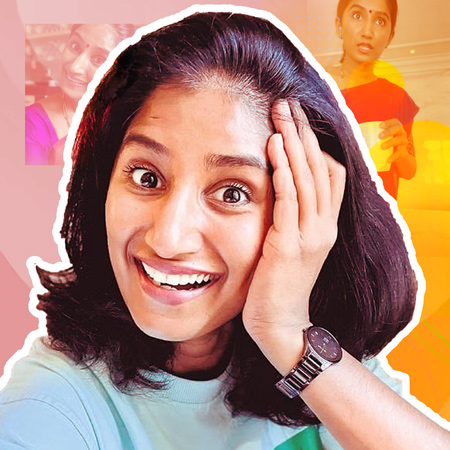 Hailing from Bangalore, Karnataka, AiyyoShraddha is a force on the YouTube and her comic timing and hilarious nature is proof that she is the next big name in the comedy world. She has a knack of making anyone laugh until their stomach hurts. Her videos not are quite distinctive, well researched and hilarious, which makes you fall in love with her as a comedian. Let us warn you, once you start watching her funny as hell videos, you won't be able to stop.
3. Dr. Jagdish Chaturvedi (Bangalore)
Dr. Jagdish Chaturvedi is a doctor, an ENT surgeon, an actor, an innovator, and an Indian stand-up comedian from Bangalore made popular by his YouTube channel. He has been doing comedy for many years and has a great fan base. His comedy revolves around relationships, traffic, human behavior, entrepreneurship, schooling, friendship, college life, and of course doctor-patient interactions and medical life. All his accomplishments and experiences in his past life help him be relatable to audiences from all age groups and backgrounds. Dr. Jagdish Chaturvedi is a great choice for corporate comedy shows because of his clean and observational comedy content. A comedian par excellence, with all the talents required for a very successfully hilarious comedian.
4. Rohit Swain (Hyderabad)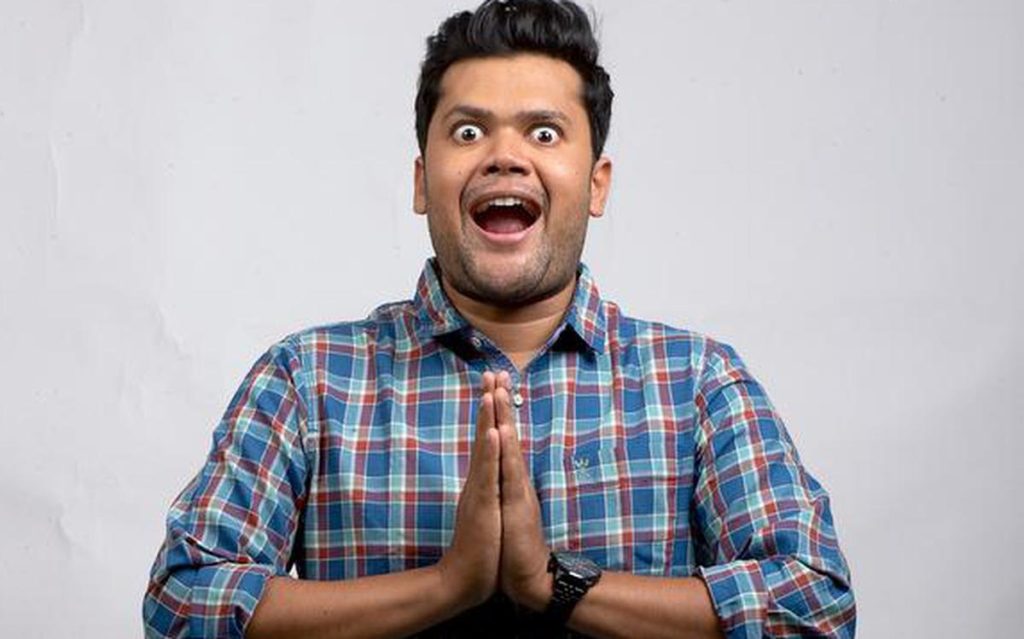 Rohit Swain is a well-known comedian from Hyderabad, whose mix of Stand Up, impersonations, sketches & funny songs on guitar keeps his style of comedy delightfully amusing. He tours all around India to perform his comedy shows and is loved and appreciated by the audience. His jokes about rich people and their weird problems are a delight to watch.
5. Chockalingam (Chennai)
Chocku is one of the earliest Tamil language stand-up comedians from the Tanglish Comedy movement. The Madurai payyan Chocku's natural, 'kurumbu' thanamaana humor is a treat to watch. Chocku's 'nakkal' that often comes as a surprise is his specialty. Chocku is a comedian who must be caught live. One of many widespread jokes delivered by Tamil stand-up comedian Chockalingam SP (Chocku) entails a visit to Sri Lanka, and the way the traveling time to get there may be lower than what you spend ready at a busy Chennai site visitors sign. Chokalingam is a standup comedian best known for his multi-language inclusive content and a guaranteed clean and non-offensive standup comedy. He is a veteran comedian who brings a great deal of experience including locations outside India as well.
6. Piyush Sharma (Bangalore)
Piyush Sharma is a well-known stand-up comedian from Bangalore who has all that it takes to be the next big comedian on the global stage. A civil engineer from IIT Bombay, on stage there is no civil about him as he spares no one. A small-town kid at heart, he does jokes about simple things like- job life, small-town mannerisms, or the hilarious dynamics of parents & teachers vs. kids. He has millions of views on his YouTube videos and has been doing shows across India that include Corporate, College as well as Auditorium shows and is known for his clean and observational humor.
7. Sriram Prasad (Chennai)
Sriram Prasad is another comedy genius of the South Indian comedy scene. The boy next door comedian, who churns out comedy from real-life experiences has performed in numerous public and private shows representing the comedy clubs and collectives in Chennai. His shows are nothing less than a feast of entertainment and he always manages to give the best time to his viewers.
8. Vikash Paul (Chennai)
A Chartered Accountant by profession and a stand-up comedian by passion, Vikash Paul is one of the most seasoned and experienced comics from the Chennai stand-up comedy circuit. He is one of those rare stand-up comedians whose comedy is based on self-deprecating humour. He has also shared the stage with big names in the Indian stand-up comedy scene like Zakir Khan, Amit Tandon, and Daniel Fernandes, and with close to 150 shows, he has become a regular face at popular comedy venues across Chennai and has also performed in other major cities like Mumbai, Bangalore, Delhi, and Kolkata. If you're a comedy lover and have not watched Vikash Paul's show, you really should run and watch his show.
9. Naveen Richard (Bangalore)
Naveen Richard is one of India's most versatile, skilled, and family-friendly comedians. He effortlessly juggles between stand-up comedy, acting, music, and creating shows. He also starred in the Amazon Prime series Pushavall. Naveen combines his slice-of-life comedy along with his iconic facial expressions and striking character work that his viewers have grown to love. From kids to Millenials to parents of Millenials, his audience is as wide as his comedic range.
10. Sandesh Johnny (Hyderabad)
Sandesh Johnny is a stand-up comedian who is part of the Hyderabad comedy circuit. A frustrated Amazon employee by day and a standup comedian by night. His dark style of comedy is his specialty and he claims that his genre is a hybrid between observational and surreal styles of comedy. The room turns into a laughter riot as soon as he takes the stage. His comical and disconcerting tone is really a must-watch for any comedy enthusiast.
11. Vignesh Vijayan (Chennai)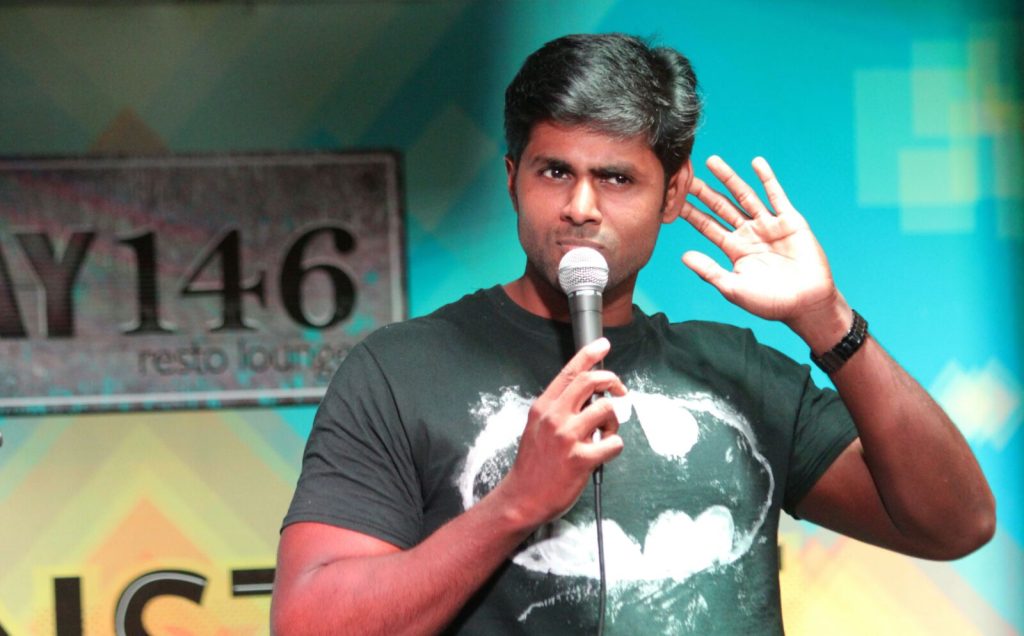 Vignesh Vijayan, popularly known as "EnterTrainer VICKY" has been performing since 2011. An Actor, Stand-up comedian, and Mimicry artist who gives a complete entertainment package to any event. He has appeared in many television shows as an anchor & performer and has also performed in Tamil sangam shows in India and abroad. He has also been a part of U.S.A Open Mic community and numerous corporate shows. His comedy special "Mike And Muscle" is the talk of the town and we are sure, if you want a good laugh, you don't want to miss his show, as having EnterTrainer VICKY in your show means "Entertainment Guaranteed".
12. Rupen Paul (Bangalore)
Rupen Paul is another leading stand-up comedian having done shows across the country. He has his own weekly podcast called "The Right Room Podcast." When he's not doing shows he makes digital content for brands and production houses as well as his channel. In 2014, he won Comedy Open Mic organized by Big Mic and his jokes on absurdities and oddities of life as experienced by people growing up in middle-class homes is a treat to watch.
13. Rabhinder Kannan (Chennai)
Rabhinder Kannan started doing stand-up comedy because he strongly believes that it is one of the last standing art forms which still holds on to free speech and that it is capable of rekindling the soul like few other things and now he channels all his lazy, awkward, introverted energy into laughs every week across any stage he can find. He is the best at what he does and we can bet you'd become an instant fan after watching his show.
14. Ramkumar Natarajan (Chennai)
Ramkumar Natarajan is a seasoned standup comic, humorist, and public speaker from Chennai. His recent videos on Evam Standup Tamasha became a viral hit among the IT audience. He has a knack to make anything sound hilarious with his exceptional talents. He is a jack of many many trades that includes fitness, half and full(only marathons), cycling, yoga, travelling, blogging, public speaking, making funny videos, pranking people effectively, and whatnot. Thanks to his funny personality, it's impossible to not like him.
15. Alexander Babu (Chennai)
Alexander Babu left his corporate job as a software engineer to focus on stand-up comedy and theater shows, and that's how the world of comedy got another blessing. In 2019 he produced his 120-minute English-Tamil stand-up-musical special, Alex in Wonderland for Amazon Prime and has toured not only in India but also in many countries like the US, Singapore, Malaysia, Dubai, Australia, and many more. He is a great performer who has been in the industry since 2014. He is the best watch if you're looking for a good laugh.
16. Manoj Prabhakar (Chennai)
Manoj is a Chennai-based stand-up comic, who while pursuing his engineering degree, found out that he has a great sense of humour and then started writing jokes. His humorous take on the middle-class upbringing, work-life, education and everything else that frustrates him has been well received by the audience. He has performed in major cities including Chennai, Bangalore, Kochi, and Hyderabad. He is a package of entertainment for anyone looking for some laughs.
17. Syama Harini (Chennai)
Syama who has always been the clown of her school and college gangs, is now a well-known stand-up comedian on the Chennai comedy circuit. Syama is the runner-up of Amazon Prime's Comicstaan Tamil season 1 and is also the title winner of the Telugu comedy show "Kushi Kushiga" produced by the famous Telugu actor Nagendra Babu. She performs like she was born to do comedy and with a delivery style that is so rooted and relatable, Syama is also a daring comic who chooses to speak about taboo topics and end them with a landing punch.
18. Sundeep Rao (Bangalore)
Sundeep Rao is India's only partially blind comedian from Bangalore. His sarcastic slapstick is his strongest arsenal and he also represents an alter ego where he calls himself DJ Soapy. He is also an improvisational actor & voice-over artist, he brings his unique style and dry humour to stages across India. his jokes are usually twisted with life lessons, true talks, sarcasm drawn upon caste, his personal disability, and insecurities of life. He is a cheerful performer and his performances are full of life.
19. Mervyn Rozario (Chennai)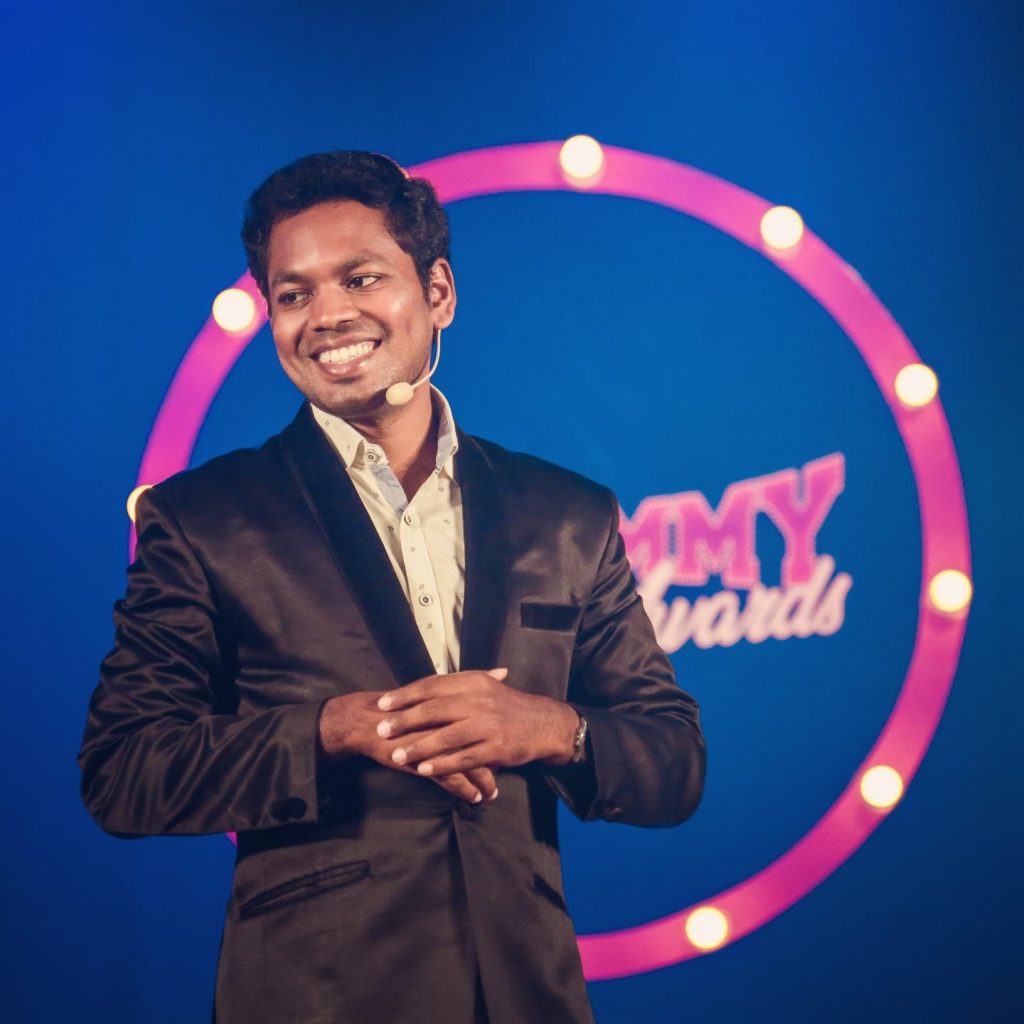 Stand-up comedy is a walk in the park for Mervyn, which is why he walks around a lot during his performance. He entered the world of comedy in 2016 and is one of the in-form, upcoming comics in the Chennai comedy circuit, winning hearts all over with his shows and performances. He has a huge fan base with millions of views on his YouTube videos. The guy is as hilarious as one would want to be, we know it because his performance makes the crowd turn into a laughing riot.
20. Punya Arora (Bangalore)
Punya Arora is Punjabi by nature but South-Indian at heart and her style of comedy is observational, light-hearted, and involves more than one accent. She has been featured on every major stand-up stage in Bangalore and her work has been covered by print, radio, and Buzzfeed. Her humor is mostly directed at breaking stereotypes and everyday life and her writing takes inspiration from everyday life. She is a great watch for people of all ages and can light up any room with her jokes.
21. Jagan Krishnan (Chennai)
As Socrates once said about stand-up comedy – "you ain't seen nothing until you see Jagan". None of his disciples bothered to record this and that's a shame. Jagan is a multi-talented stand-up comedian as he possesses extraordinary talents like standing up, holding a mic, talking, etc. Jagan Krishnan is a master of multiple genres of stand-up, especially storytelling and joke-telling. He makes an everlasting impression which makes us want to watch him perform again and again.
22. Praveen Kumar (Bangalore)
Praveen Kumar is a Bangalore-based stand-up comedian who has done about 1400 shows all around the globe. He started doing comedy on stage from his BITS Pilani days where he used to do comedy mimes and after he passed out from college there was a void. He got into the stand-up comedy scene in 2009 and has never looked back since then. His Clean humor makes him a favorite among the Corporates and family audience. He has done 4 specials and has been rated as one of the Top 10 stand up comedians in India by Times of India and one of the top 10 comics in India to look out for by IBN live. He has also been nominated for Forbes Top 100 celebrities in India.
23. Karthik Kumar (Chennai)
Karthik Kumar is a well-known face of the South Indian comedy scene. He is a prolific stand-up comedian known for his witty one-liners, who has done three stand-up specials. His first special, "#PokeMe" has more than half a million views on YouTube. His second special was titled "Second Decoction" followed by "Blood Chutney" streaming on Amazon Prime. He has performed over 1000 shows across India, the USA, the UK, Singapore, Malaysia, and Hong Kong. You can't get enough of Karthik as he is a party of entertainment.
When it comes to skill, timing, delivery, fun, and laughter, they are the go-to entertainers and you don't want to miss the performance of these stars of comedy. And we advise you to take some tissues with you because you might get teary-eyed with all the laughing.

When it comes to booking/ hiring these wonderful South Indian comedians or the top-class artists of India, you can Book/ Hire / Enquire for Charges / Performance fees for them via engage4more's passionate team. Our working relations with over 2,500 talented artists come with an assurance of best-suited artist suggestions for your event with pacy bookings and great prices. Also, enjoy our value adds like complimentary quizzing for your events along with free publicity by our post-event coverage via our social media handles!

Start your artist booking journey here.